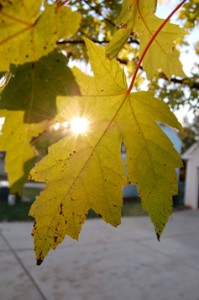 The air is cooler, the leaves are turning, and the holidays will be here before we know it.  It's fall!
Before the guests arrive and it gets too cold to work outside, use these fall home maintenance tips.
1) Clean your gutters before they clean your wallet. Experts recommend you clean gutters in the fall and spring to prevent damage to the gutters as well as damage to your house siding and foundation.  It can be a DIY project, but if it has been a while, you live in a 2-story home, or you just don't want to, calling for a handyman or gutter service is probably best.
2) Caulk windows and door frames. Seal up your doors and windows with a fresh coat of caulk to lower heating costs and to prevent moisture from getting in and damaging your windows and doors.
3) Give your heater or fireplace a check up. You do not want to wait until the first freeze to make sure your heater is working. Call a licensed heating contractor to give your system a once over. If you have a fireplace or wood stove, perform regular maintenance so it will be ready when temperatures drop.
4) Reverse your ceiling fans. Changing the air flow to a clockwise direction encourages warm air to circulate rather than hang out at the ceiling.  If your fans are high, call a handyman to do it for you and change out the light bulbs  and smoke detector batteries at the same time.
5) Store yard equipment. Once the grass stops growing, it's time to drain the gas from your mowers, leaf blowers and trimmers. Keep your rake handy for those last falling leaves. Locate any snow removal gear you might need so you are ready if we get a storm.
If you need help with these or other fall home maintenance tasks, give Matt at call at 803.242.9549.
Your Fall Home–5 tips for Fall Home Maintenance is a post on Integrity Home Solutions
Welcome to Integrity Home Solutions! Serving home owners in Fort Mill, Indian Land, Sun City, Ballantyne, Waxhaw and South Charlotte with all their handyman service needs.